---
---
---
♡ 𝖘𝖊𝖗𝖆𝖙𝖊𝖆 ♡
Vtuber design | Model Art | Live2D Rigging
---
♡ 𝖙.𝖔.𝖘 ♡
This is not "first come, first served." Applications will be chosen based on interest and by deadlines, but I appreciate the consideration nonetheless!1. Process:
Fill out my Application Form with all the following information:
- Notice of deadline, if any.
- What commission package you would like
- Description of character + any and all references.2. Payment/Prices:
- Prices will fluctuate depending on what the client is searching for. Size, complexity and/or detail must be taken into account.
- The final price is non-negotiable unless stated otherwise [Discounts, special offers, etc].
- I will only ask for full payment once I am confident that the client is pleased with a certain checkpoint [Sketch, Head XYZ, Design of choice]. Partial payment can be discussed.
- All payments will be completed through Paypal Invoices.3. Time:
Depending on the commission and complexity:
- Design = 1-2 weeks .
- Vtuber Art = 2-3 weeks.
- Live2D Rig = 2-4 weeks.4. Final product:
The final product will be provided via Google Docs in a Zip file to ensure full quality! :DRights:
- Commissioned works MAY be used for commercial purposes
- I hold the right to crop, edit or alter the final product for promotional use.
- I do not claim any rights to any intellectual property or character(s).
- The client may not alter, edit or resell the final product unless agreed upon by me.
- I give full permission to my clients to repost the artwork(s) to any platform they please so long as complete credit has been provided.
- Commissioned artwork(s) may not be resold.Refunding:
- If the client wishes to cancel the commission before payment, the commission will be cancelled and no further action needs to be taken.
- If the client wishes for a refund before beginning any work, a full refund will be provided.
- If the client wishes for a refund after beginning any work, a percentage of the refund will be provided at the artist's discretion based on how much work is done.
- If the client wishes for a refund after the commission is completed, no refund will be provided.
---
---
Vtuber: DaAwkwardLauren
Art: kowaitea
Rig: kowaitea
---
Vtuber: LunriiLu
Art: fangwan_2017
Rig: kowaitea
---
Vtuber: Feline Entity
Art: projectTiGER_
Rig: kowaitea
---
Vtuber: DaAwkwardLauren
Art: kowaitea
Rig: kowaitea
---
Vtuber: seratea
Art: seratea
Rig: Seratea
---
Vtuber: CottontailVA
Art: kowaitea
Rig: kowaitea
♡ 𝖛𝖙𝖚𝖇𝖊𝖗 𝖉𝖊𝖘𝖎𝖌𝖓 ♡
BASE PRICE
Design from scratch: $200usd
Design from pre-existing character: $100usd
ADDITIONS
Hair: $20usd
Outfits: $60usd
---
♡ 𝖒𝖔𝖉𝖊𝖑 𝖆𝖗𝖙 ♡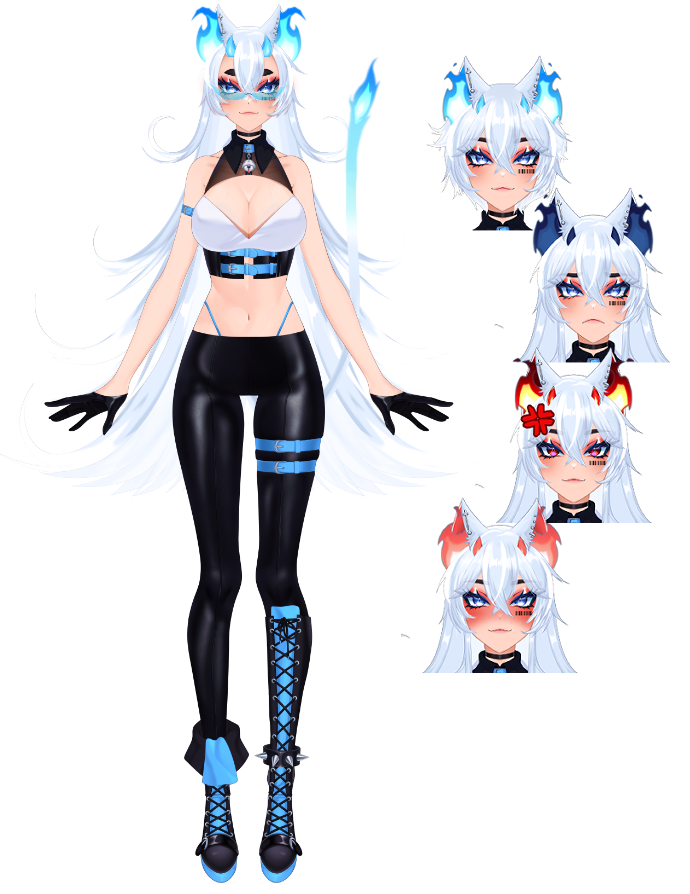 BASE PRICE
Full body: $450usd
ADDITIONS
Hair: $40usd
Outfits: $60usd
Emotes: +$15usd
Moveable accessories [Chokers, earrings, chains]: +20usd
Animal ears/horns & Tail: +$30usd
---
♡ 𝖗𝖎𝖌𝖌𝖎𝖓𝖌 ♡
| ♡ | Basic | Mid | Standard | Detailed |
| --- | --- | --- | --- | --- |
| Price | $300USD | $450USD | $700USD | $1000USD |
| Breathing | ✓ | ✓ | ✓ | ✓ |
| Head XYZ | ✓ | ✓ | ✓ | ✓ |
| Eye XYZ | ✓ | ✓ | ✓ | ✓ |
| Brow Movement | ✓ | ✓ | ✓ | ✓ |
| Mouth Movement | Simple | ✓ | ✓ | ✓ |
| Upper Body XYZ | X | ✓ | ✓ | ✓ |
| Lower Body XYZ | X | X | ✓ | ✓ |
| Stepping Motion | X | X | X | ✓ |
| Hair Physics | Minimal | ✓ | ✓ | ✓ |
| Clothing Physics | Minimal | Minimal | ✓ | ✓ |
| Eye Physics | X | X | ✓ | ✓ |
| Idle Animation | X | X | ✓ | ✓ |
| Emotes | 3 | 3 | 5 | 5 |
| Expression Animation | X | X | X | ✓ |
ADDITIONS:
Emote + $15USD
Idle/Emote Animation + $40USD per
Hand/Arm Parameters + $30USD per
Model Cutting fixes + $50USD
Animal ears/tail + $30USD [This includes physics]
Vbridger Tracking + $70usd
---
♡ 𝖆𝖗𝖙 + 𝖗𝖎𝖌 ♡
| ♡ | Basic | Mid | Standard | Detailed |
| --- | --- | --- | --- | --- |
| Price | $600USD | $900USD | $1150USD | $1450USD |
| Art | Half Body | Full Body | Full body | Full body |
| Breathing | ✓ | ✓ | ✓ | ✓ |
| Head XYZ | ✓ | ✓ | ✓ | ✓ |
| Eye XYZ | ✓ | ✓ | ✓ | ✓ |
| Brow Movement | ✓ | ✓ | ✓ | ✓ |
| Mouth Movement | Simple | ✓ | ✓ | ✓ |
| Upper Body XYZ | X | ✓ | ✓ | ✓ |
| Lower Body XYZ | X | X | ✓ | ✓ |
| Stepping Motion | X | X | X | ✓ |
| Hair Physics | Minimal | ✓ | ✓ | ✓ |
| Clothing Physics | Minimal | Minimal | ✓ | ✓ |
| Eye Physics | X | X | ✓ | ✓ |
| Idle Animation | X | X | ✓ | ✓ |
| Emotes | 3 | 3 | 5 | 5 |
| Expression Animation | X | X | X | ✓ |
ADDITIONS: ⋆means price is for both art and rigging.
⋆Emote + $30USD
Idle/Emote Animation + $40USD per
⋆Hand/Arm + $60USD per
⋆Animal ears/tail + $60 USD [This includes physics]
Vbridger Tracking + $70usd
---
---